Crush Walls
"...a city continually reinventing its image, full of people ready to start from scratch and create something striking."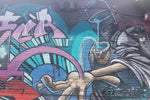 All over Denver, you can find a crowd of people soaking up the last of the summer sun, from people lingering over picnics at Wash Park to hikers exploring the foothills. But CRUSH WALLS is the one spot where you can watch art happen in real time while enjoying outdoor cocktails and some of the city's trendiest shops and galleries. CRUSH WALLS, an annual event in Denver's RiNo neighborhood, is where you can find blocks and blocks of buildings lend their alley-facing walls as canvases for traveling and local artists. The festival has been around for a decade, and just like Denver, seems to grow exponentially each year. The "crush" in CRUSH WALLS stands for "creative rituals under social harmony," and the event is all about street art.
Watching local artists paint murals is free to the public at CRUSH. But some of the more exclusive events come with a price tag. Take, for instance, Secret Walls, an experience that bills itself as the "fight club" of the art scene. If you're fast enough, you can grab tickets to this quickly sold out, undisclosed location event that features a live illustration battle. The secrecy, the exclusivity, and the unflagging amount of talent you are privy to all feel a bit metropolitan.
Walking through the main streets surrounding CRUSH WALLS is no different from many of the other neighborhoods in Denver; you'll see dogs and breweries aplenty, and food trucks parked here and there. But the alleys are where the excitement happens. Finding art in an unexpected place like an alley is surprising, and the artists leave no surface behind. You'll see works of art that teeter on the fine line between murals and graffiti on abandoned couches, dumpsters, lampposts, and more. A panel of judges has selected these artists from countless applicants, and they are the chosen few allowed to artfully deface the walls in these alleys.
The crowd meandering through the alley is Denver in a nutshell: young, bustling, busy, and exciting. Of course, it's not just Denverites perusing the art show, but folks from far and wide who came to see the art in progress. Happy tourists unaware of just how sunburned and dehydrated they're getting at this elevation stroll through the exhibits and comment on the unprecedented heat. The smell is appropriate for Denver's first event to receive a special permit allowing public marijuana use, dampened only slightly by a whiff of chemical spray paint.
Like any good festival, CRUSH WALLS has a lot to offer people with varying interests. At an entrance, a shaded enclosure houses a studio where kids are making art, ostensibly for refrigerator walls back at home. A DJ spins music in a tent while the lines for vodka cocktails and spiked seltzer melt into the swarms of those observing the art, the artists, and the music. If you're here at the right time, you might find yourself amidst a block party, concert, lecture, or art-related workshop.
Anyone who has spent a few years in Denver knows that this isn't the neighborhood's first facelift. RiNo is unrecognizable from what it was a decade ago. The area just north of downtown Denver has been completely reinvented. Each year, artists "buff" (artist-speak for prepare to paint) and then coat these buildings with brand new art. This creative ritual makes the reality of growth Denver is experiencing unmistakable. Come back next year, and nothing will look familiar.
At its core, Denver is still a city full of innovation, talent, creativity, and people who love nothing more than taking in art and auspicious weather. This event is a culmination of that sunny and creative spirit. Denver has a lot of public space art, and CRUSH is a celebration of the art community – a diverse and extraordinarily gifted group. The raw talent it takes to start with a wall or a mattress or a dumpster and turn it into something beautiful is part of the reason people continue to flock to this city. Denver has energy, character, and vision; it's no longer just a mid-sized hub in the Midwest.
Timing your trip to CRUSH WALLS is key if you aren't planning on visiting a few times. Come towards the beginning of the week, and you'll see vague sketches of mural ideas. Later on in the week, the transformation from alley to work of art becomes evident. While the festival itself may be over for this year, you can still stop by and see all of the amazing artwork across the neighborhood.
What better way to support local art than by picking up some merch by underground Denver artists, amongst thousands of other art enthusiasts who see Denver for what it actually is: a city continually reinventing its image, full of people ready to start from scratch and create something striking.
For more information on this year's events, check out: https://www.crushwalls.org.
Author: Angela Kempf