Lala's Little Nugget
It's been Christmas year-round for 47 years and counting at Austin's best little dive bar.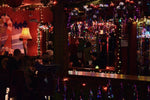 As a writer, I'm always looking for cozy places around Austin where I can sit peacefully and tap away on my laptop, maybe with a reasonably-priced cocktail nearby. But every once in a while, I find a place that goes beyond cozy and affordable — a place that has such a warm, fun vibe that I come back week after week, often forgetting my writing goals altogether. Tucked away on a quiet lane in central Austin, Lala's Little Nugget is just that kind of place, especially when they're having a Christmas party...in September. Or June.
Though it's hard to imagine a dive bar could deliver that warm, fuzzy Christmas spirit as effortlessly as it slings well vodka, it's a nightly occurrence at Lala's. But on September 28th, the bar celebrated its 47th anniversary, and the Christmas cheer was turned up to 11.


I read on Lala's Facebook page that Santa would be visiting the bar for their September anniversary party, so my partner and I headed down to Justin Lane see what kind of Santa a Christmas-obsessed dive would host. By the time we arrived, Santa was having a Pabst and checking his email at the bar. He looked a bit like a surly bus driver, and while I wasn't about to ask him if I could sit on his lap, Surly Santa completed the Lala's Little Nugget atmosphere in a way that he probably wasn't even aware of. 


He sat like a large, red anchor amid a buzzing crowd of regulars and newcomers, every one of them seemingly in a great mood. And how could they not be?
Near puddles of booze sloshed about by a packed house, candles flickered in red and green dollar-store glass, plush elves bobbed up and down overhead, and about 200 snow globes clustered everywhere from floor to ceiling, all of which appeared to have been there since the 1980s. This intimate space was jammed with enough colored lights and festive bobbles to make a Times Square Santa Clause blush. They even had the leg lamp from A Christmas Story glowing lurid red in a corner near the pool table, right next to Santa's massive throne.


Add some smooth Sinatra on the house speakers, and you've got one of the liveliest Christmas parties you're ever likely to attend. And just for fun, Lala's does this three times a year, complete with an ugly sweater contest in June and a white elephant gift exchange in December.
After a surprisingly spicy cocktail with habanero infused tequila (a Naughty Little Nugget), I decided to pop next door for some barbeque at Lala's Little Neighbor, Do-Rite BBQ. Many people will miss out on Do-Rite's offerings only because, in this brisket-obsessed town, award-winning BBQ joints are on just about every corner. But a little-known fact about Do-Rite is that it's actually a location of the famous Stubb's Bar-B-Que, doing business under a new banner. My fried green tomatoes and angus brisket were some of the tastiest in town, and that's saying a lot around here.
Food in hand, I retired to a table out on Lala's covered patio where the concrete is covered by plush AstroTurf and there are actually cushions on the chairs and benches. Once I'd eaten, I petted someone's pooch and struck up a few conversations with nearby strangers, and I quickly got the sense that the warmth inspired by this place carried out onto the patio. Everyone I spoke with was open and receptive, which can be a rare thing in big cities, even when alcohol is involved.


By the end of the night when the clock struck 2am and it was time to Uber home, it occurred to me what truly makes Lala's such a unique place. It's more than the wall-to-wall colored lighting, dusty tinsel and dive bar Santa (bless his heart), or even the amazing barbeque. Come by on any given evening and you may notice, whether because of the great atmosphere or the welcoming staff — Lala's Little Nugget just seems to make people feel good. Even the door guy and bartenders aren't immune to this venue's undeniable charm.


It's near impossible to feel lonely at Lala's, even if you happen to be spending Christmas all by yourself at a bar. In fact, if you ever find yourself in that position, Lala's Little Nugget may be the one place where you can turn being alone on Christmas into a truly wonderful experience.
For details on their amazing Bloody Mary Mornins', weekday Jolly Hours or Lala's infamous ugly sweater contests, check out the Lala's Little Nugget event calendar. To get insider tips on how to find Elfis the Elf (and win a prize!) or to read some reviews, visit Lala's Facebook or Instagram. You can find Lala's at 2207 Justin Lane in Austin, or reach them by phone at (512) 487-5297.