Siestas Negras
Resting in Power. An admonition to all that "we are enough."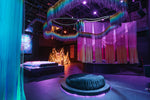 Miami is a city that is full of life and rich in culture. Whether you are a resident or just visiting, you will never be short on things to do. My favorite thing about the city is the vast art scene, especially during Art Basel. This year I chose not to attend Basel itself, and instead opted to take part in some newly featured exhibits at museums in the area. The museums in Miami are outstanding year-round. However, during Basel, they really up the ante. Another significant advantage of choosing museums over Basel is the price point. Many events at the Museum of Modern Art and Design in Miami are free! One art display that particularly sparked my interest was "Black Power Naps" or Siestas Negras.
Black Power Naps is a featured installation of Where Oceans Meet, an exhibition inspired by the works of Caribbean writers Lydia Cabrera and Edouard Glissant. Each work in the exhibition highlights various viewpoints on "race, diaspora, colonization, creolization, language, and territory'.
The display is a multi-sensory installation created by Niv Acosta and Fannie Sosa in 2011. Siestas Negras tackles the discrepancies between sleep for people of color and "reclaims laziness and idleness as power" (Museum of Art and Design). The installation features six stations explicitly created to promote deep rest; the Polycrastination Station, Atlantic Reconciliation, Pelvic Floor, Black Bean Bed, Oxygenation Station, and Black Power Station.
Before I get into my experience, I just wanted to touch on a little bit of the background of the exhibition and what it all stemmed from: Black Power Naps seeks to provide a space for people of color to escape from the pressure to do and be and offers peace as a replacement. For many, sleep is seen as luxury provided only to those who have been blessed by their social-economic standing. Sosa and Acosta endeavor to implement a home for people of color to embrace self-love and prioritize self-care.
The disparity referred to as the "sleep gap" has been studied by numerous academic institutions, including the Pew Research Center and the National Institute of Mental Health. Studies show that chronic sleep deprivation can be directly linked to many health issues and engenders stress and anxiety. The sleep gap is attributed to many social and economic factors that make People of Color more likely to get less sleep; however, it has been concluded that they are not the only determinant.
The inequality does decrease as minorities begin to make more money; nevertheless, several studies have noted that the improvement of social-economic status does not erase the disparities between the sleep of People of Color and their White Neighbors. Siestas Negras investigates this issue more deeply. The installation's purpose is to bring the matter to the forefront of our minds and "redistribute rest as a form of reparations."
The exhibit begins in a dimly lit black room where participants remove their shoes before entering the performance space. Everything about the curation of the area feels sacred. A table with six flickering candles is the centerpiece of the room. Each candle is adorned similarly to Veladoras, a religious candle used traditionally by Latin Americans, with a twist of activism.
In the principal area, silky drapery, plush pillows, lavish blankets, and ambient mood lighting reinforce relaxation. Guests are invited to explore the space, remain present, and do what feels right to their bodies while keeping the personal space of others in mind.
Acosta, co-creator of Black Power Naps, makes an opening statement that shines a light on the meaning of Siestas Negras and why its mission is so pertinent. After the introductory speech, attendees are empowered to rest as meditation music fills the hall. The music is not your typical yoga studio meditation music, but instead, each soundscape has a common thread of Afrocentricity and Latin flare.
After having a few minutes to unwind, participants are led through a series of breathing exercises and guided meditations, steering them deeper and deeper into a space of comfort. A reflection conducted by Sosa was my favorite piece of the exhibit. Sosa has a presence that makes it clear how sincerely this topic resonates with the artist. The artist's words fill the hall, and the hearts of the participants intensifying the encounter. To close out the event, Acosta and Sosa sing a duet in Spanish. The song is presented as an offering to visitors. The number is followed by a note to hold on to the moment and the artists implore attendees to create their own sanctuary for rest in their lives and homes.
As I left the museum, my senses were flooded by the sights and sounds of Miami, and I felt a flurry of emotions. I felt overwhelmed and sad knowing that I had to return to a world where my existence as a person of color seemed to be an apparent handicap. However, I also felt powerful in a way I didn't expect. I knew I was not alone and that I had a community that understood the daily challenges I face. Black Power Naps did not give me that community. They had been there all along supporting me, standing with me, and cheering me on. I had just been too busy to notice.
Art is a powerful thing. Art can make us think, feel deeply, and at its best, it can change the way we view the world. Black Power Naps is a transformative experience; opening the minds of its participants to what art can be.
Siestas Negras is a must-attend event for not only people of color but for anyone who needs to be reminded that rest is not a luxury, but a birthright. This event is one that will impact the lives of many and serve as an admonition to all that they "are enough."
For any curious Miami locals, the experience is located at the Museum of Art and Design at MDC until January 12, 2020. Find out more about BPN on their site as well as their Instagram!
*Special thanks to Black Power Naps for letting us feature some of their images along with our own.