Tacotopia
"Swinging chairs, taco teeter-totters, and even a mechanical bull embellished with taco art."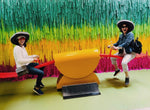 Living in Los Angeles, there's a lot of Mexican influence- from street signs to cuisine. It wasn't long ago that Los Angeles belonged to Mexico. It was in 1848 when Mexico ceded to the United States. That is when the U.S acquired what is known today as California. From the early ages of California, many Mexicans have lived, cooked, and shared their recipes for generations. This is where Angelinos have found their love of all things Mexican, especially tacos. To this day, tacos, like pizza are a ubiquitous part of the LA culinary landscape. This is why having a Taco Festival in LA makes sense.
Tacotopia is an immersive taco exhibit in Santa Monica, which debuted on Friday, May 24 and goes until Sunday, July 7. It features over 20 taco-themed environments where you can either take photos or engage with the art. There are swinging chairs, taco teeter-totters, and even a mechanical bull embellished with taco art. The exhibit is $30 for adults, $25 for students, and children 4-11 $20. For the admission fee, it also includes a bottle of Jarritos soft drink, a taco from Azule Taqueria (down the street from the exhibit), as well as a cholula hot sauce sample bar.
As you walk down the 3rd Street Promenade in Santa Monica, you pass the Victoria's Secret, the Sunglass Hut, and the Zara to find yourself in front of the store opening for the Tacotopia festival. It's located in the same spot as the Nasty Gal store was a couple of years back. You walk in and immediately greeted by bright blue, yellow, and pink signs that read, "Tacotopia: Welcome Taco Fanatics". As there are other taco festivals elsewhere in the states, this one is unique because of the immersive environment. Not only do you get to have taco pictures, but you can also play taco-themed games.
After you pay, you proceed to enter the exhibit through the glass walls that loop you into the "playground". The first real game you can play is the ring toss where you are given a handful of rings to toss onto the Jarritos soft drink. It's no pressure because you are given a complimentary soft drink regardless of your ring toss skill. Next, there are a number of animated rooms filled with taco art. Some rooms that stood out were filled with massive tacos that you could sit on. You could also take a ride on a taco teeter-totter wearing a sombrero hat in front of a multicolored ribbon background. Another favorite was a room with a swing and a bright pink background that read, "less hate more tequila".
As this event is an all ages event, there were a lot of younger children running around. The children especially had a blast playing in the guacamole play pin. There was a large exhibit showcasing a red guacamole bowl with small green blocks which were meant to look like guacamole. You could hear children laughing and screaming throwing the blocks back and forth. The background was made with green, yellow, and red chips and read "Guac is extra and so am I" and is a perfect place for another photo opportunity.
The whole event was produced for people who like tacos, and those who are interested in getting unique, colorful photos. Many of the people who attended were families as well as teenage girls who were stopping at every room to strike 15 poses each. Luckily, visiting on a Sunday afternoon wasn't crowded. There were absolutely no lines to get in, which is a super rare find in LA!
Overall, checking out Tacotopia is a fun family activity especially if you do live near the Santa Monica area. Bring your family and friends and make a day of it- eating and shopping along the 3rd Street Promenade!
Learn more about the festival here: https://atacotopia.com/