Urban Axes
Rediscovering one of the most fundamental tools of mankind's history in an irresistibly fun way.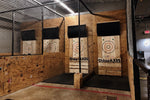 The idea of throwing an axe at a target in a room full of people might be enough to intimidate most of us. The axe feels like a common household item but also semi-foreign and dangerous. Am I strong enough? Will I manage to avoid serious injury? Can I figure out how to aim? The answer is yes!
The sport of axe throwing has been around for thousands of years and the axe is one of man's greatest tools. Despite its practical relevance, a majority of modern people, especially in cities, have never even picked up an axe. I am one of those people. Establishments such as Urban Axes in Austin, Texas are dedicated to bringing the spirit of axe throwing into cities via a recreational setting and a simplified process.
Urban Axes, located on Airport Blvd, operates out of a simple, attractive facility with a generous parking lot. Upon entry, I was greeted with the exciting sound of axes hitting a wooden target, laughter and competitive chants from groups of people and warm staff members at the front desk. Urban Axes caters to both large groups and company outings, as well as walk-in customers.
Although not required, it is encouraged to call ahead for walk-in spots just to ensure availability. I recommend planning for a weekday, as it was only a Tuesday and decently crowded. I was prompted to fill out a waiver on one of the site's numerous iPads, verifying that I was 21+ and I paid $22 for one hour.
Next, I was assigned a nearby throwing station where my instructor and group were waiting for me. The whole facility is clean and spacious, with a justified "urban" feel. Because of this open design, I was able to watch the other throwers, which can be fascinating and funny. I started to get the sense that people were really enjoying this. Since I was a solo walk-in, I was assigned to a group with two couples on a double date. They were feasting on chips and guacamole as well as spiked seltzers; this location is BYOB. In fact, most people seemed to be sipping on a beverage or eating a snack. When you weren't throwing, there was a waiting and watching safe area complete with bar stools and tables. The atmosphere seemed to be upbeat and community-oriented.
When it was my turn to throw, the instructor happened to be simultaneously informative and concise, making the lesson aspect of the sport painless. He gave me a simple tutorial on a two- handed axe throw to get started and then encouraged me to throw my first axe; there was no time to be wasted. The initial throw felt a little odd, and inevitably it did not turn out to be a bullseye, but somehow it was extremely liberating. The instructor gave me immediate, useful feedback. He made sure to carefully watch what part of my axe hit the target (or floor) and at what time, which helped him calculate where I needed to stand based on the way my axe was rotating. He thoughtfully critiqued my posture and I was encouraged to throw a handful more times until the next person at my station switched in. We rotated in and out for the remainder of the hour, amazingly growing in skill exponentially each time. By the way, I miraculously achieved a bullseye after a few throws. I couldn't believe it!
On a typical evening during walk-in hours, you might find an eclectic group of people. There was a full-blown league competition in the backend of the facility, a result of team practice sessions and legitimate tournaments. Anyone and everyone, regardless of experience, is invited to create or join a league. There was also a corporate retreat sharing a memorable time with some beers and friendly competition. There was a husband and wife duo who bring in their own axes and train frequently. There was even a man in opposition with himself standing at a faraway, advanced distance. Urban Axes makes something as unfamiliar and unique as axe-throwing totally accessible to everyday people.
If you are feeling even somewhat adventurous, I encourage you to plan a trip to visit Urban Axes. Although I was nervous at the start of this experience, I came out the other end thrilled about a potential new hobby.
Get in touch with something as primal as axe-throwing and rediscover what it means to have fun. And in case you were wondering, I think the trick to it all has something to do with the follow-through.
For more information on Urban Axes, axe-throwing in general, making reservations, locations, and more, you can visit www.urbanaxes.com. You can find them on instagram @urbanaxes as well.