Yoga on the Rocks
"...fresh air, mountain views, and rows upon rows of people sitting on their mats."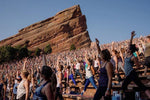 After living in Denver for a while, or visiting it a few times, you may start to crave a unique experience that beats the norms of Casa Bonita, the 16th Street Mall, and hiking in Golden.
Denver is known for many things: its fast-growing home prices, its innovative tech industry scene, and its beautiful mountains complete with world renown ski resorts. It also has a pretty unique health, wellness, and fitness scene. A number of renowned fitness moguls had their humble beginnings in Denver. So you check out some local boutique fitness and yoga classes, or maybe you run the Cherry Creek trail. It's fun and it's beautiful! Now what?
If you are looking for a one of a kind yoga experience, you are in for a local yet monumental yoga practice at an event called Yoga On The Rocks.
Imagine this - the most iconic music venue in the US, fresh air, summer sun, city and mountain views, and rows upon rows of people sitting on their mats waiting for class to start. There, in this beautiful setting, a powerful voice of a kind teacher will guide you through one hour of magical, inspired, physically challenging, yet calming yoga practice.
This is Yoga On The Rocks. Just a few miles from Denver Colorado, the Red Rocks Amphitheater is situated in an environment build completely by nature and only enhanced slightly for human convenience. The venue has natural acoustics helped by the giant red rock formations, hence the name of the theater. It hosts over nine thousand people as a concert venue and about two thousand people as a yoga class venue.
Mats hit and unroll on the wooden planks that usually serve as seats to concert goers, people also put their stuff down and get ready to practice atop the planters for higher views. Yoga teachers usually show up super early to help with set up, to ground themselves, and to prepare for class. They peruse the eclectic backstage and they marvel at the iconic rock star signatures embedded into the Red Rock. Holding on to that inspiration as well as all the memories of shows, movie screenings and other life event celebrations, the teacher takes the stage.
After speaking with one of the past Yoga On The Rocks instructors, I discovered how nerve wracking teaching can be - "It was terrifying to see so many people looking down at you, and I'm supposed to teach them something!" Of course, as a teacher, you can't really walk around and adjust too much (how can you assist 2000 bodies in one hour?) , so instead she focused on using her voice to assist and inspire. "It's a totally different environment than teaching in a classroom; it's very challenging yet totally life changing."
I can only imagine how she felt looking around at the grandeur of her class, totally humbled by the experience.
As a practitioner, the experience is somewhat similar - you wake up early to beat traffic and find parking. Then, unless you've scored a parking spot at the top, you climb yourself and your yoga gear up to the venue; that alone is a great way to warm up for the day. You find a spot, hug all the friends you planned to meet and so many others you probably didn't even know were coming. Then, as the sun rises, you experience the joy of doing yoga outside, at the one of the most interesting places in the US. It's chilly at first, but as the sun rises, it is quick to warm you up; the vigor of the Sun Salutations doesn't hurt either.
As you practice, you can't help but notice the sprawling views, as well as the synchronicity of so many people moving together as one. The air hits your face just right and you are transformed into a nicer, more connected human… one breath at a time.
You work it for a full hour and then, your head gently hits the mat wrapping up your practice with the sweetness of Savasana - the final resting pose. You hope for a long one. It's so quiet, yet you feel the kind supportive energy around you.
Just being at Red Rocks is sure to lift anyone spirits; with a yoga class added to the goodness, you're sure to be on a unique kind of high. And yes, you're more than a Mile High from sea level! Those visiting Colorado from other states are sure to feel this practice in their lungs; it's great for training them for other sea level activities.
As an event, Yoga On The Rocks, has been around for six seasons, starting its seventh this summer, 2019. It didn't take its time gaining popularity. Instead, even in the first year, most dates scheduled were sold out. Usually, two yoga studios take the reins and rotate some of their most favored instructors. For instance, one yoga studio owns the month of June and the other takes over July. The event is held every Saturday morning. It is not unusual for concert goers to turn in around midnight on a Friday after a show, and then wake up and head back out to Red Rocks for "a little yoga action" the following morning.
There are so many yoga events these days - festivals, workshops, special guest classes. Yoga at the Park, Yoga on the River, Yoga on the rooftop, yoga in a really large back yard, yoga in a very small back yard, yoga online, yoga on demand, yoga.. yoga.. yoga… Anything that brings people together as a community is great and tends to be empowering and wonderful in many ways. With so many choices, what matters most to people is coming together and joining in on the fun. That, and possibly some photos to go on their instagram feed.
What sets Yoga On The Rocks apart from the rest is that it is SO Colorado. With Red Rocks as your back drop, you will be taught by a local yoga teacher complete with malas, possible tattoos and innovative messaging. After this yoga experience, you can head into Morrison just down the road and enjoy local green chili with a hearty breakfast or a light walk by the river. Bring your water bottle, your mat, your best friends, and your camera. This will be a day you'll never forget.