Inspired Home
Kor's sustainable statement by thinking outside the (cardboard) box.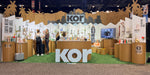 How do we "leave no trace" while leaving a lasting impression? Through sustainable design, of course. From March 4–7, Kor Water exhibited at the annual Inspired Home Show in Chicago, a sprawling demonstration of innovation, community, and creativity that connects some of the most influential minds in the housewares industry. The trade show is the largest of its kind in North America, attracting thousands of industry movers and shakers from hundreds of countries every year. We showcased our suite of drinkware and artist-driven utility in a big way, collaborating with Pablo Garcia Mora and the rest of the team at Cartonlab to create a showstopping installation that reflected our values and dedication to smart design. Cartonlab is an ecodesign firm based out of Murcia, Spain that specializes in event architecture and product conception by working exclusively with cardboard, a renewable and surprisingly resilient material that makes for easy assembly and a striking first impression. We were blown away by the excitement and contagious energy that our display generated during the trade show, standing as a firm example of what happens when people unite and empower each other in pursuit of something more.
Selecting Cartonlab for a collaboration was easy, as we closely identify with the company's passion for potential and adaptability. Our products emulate a stylish utility that demands a creative and functional stage to interact with, which led to our partnership with Cartonlab. At this year's trade show, we launched our ONE Planet and Union collections, two hyper-intentional designs that combine optimal performance with clean artistry. ONE Planet teaches us to sip sustainably with its signature Perfect Spout™ and Halo Trim™ anatomy, along with stellar patterns that drip with natural beauty. Inspiring change requires a hustle, and our ONE Planet celebrates and hydrates the hands that both steward and strategize the future of our planet across land, sea, and sky. These landscapes are woven into the halo designs to create one-of-a-kind vignettes that strike conversations both in-person and online, and let's face it: our Earth deserves more likes.
Equally captivating, our Union model reflects the structural might of LA's Union Station and shines with the same transparency and sturdiness as ONE Planet, this time with elevated practicality and a utilitarian-chic persona. When we work hard, we deserve to play harder and drink deeper, trusting that water will take us where we need to go and beyond. Systemic changes in how we approach sustainability demands a level of mobility, and Union supports our journey from the first sip, roadmapping a course that puts the 'fun' in functional design. We're all connected by water, and these networks are marked by the people and experiences we absorb along the way. There's strength in unity, and we found a powerful partnership in Cartonlab when brainstorming our stage.
Of course, presenting product at the trade show oversteps mere tangible exposure, and we knew from the start that we wanted our booth to be immersive, captivating, and aligned with our mission to make a sustainable statement. By using a material like cardboard to build a fully interactive booth that not only charmed the show patrons but amplified the scale of possibilities, we were able to connect on a deeper level of innovation with industry leaders and set an example for buyers and sellers on what the future of retail and experiential marketing could look like. In tandem with these values of unity, our Kor Canvas models were also on display, a nod to the fabulous artists and creatives that have found their own canvas in Kor's mission to illustrate real mobility. Both the Canvas and Melrose collections remind us to pause and reflect on what lives at our core, be it the arts, nature, community, or adventure. Where Union drives us to our furthest destinations, vessels like Canvas tell us to #StopAndSmellTheMelrose, a tribute to the colorful boulevards of Southern California that have played host to some of the world's most dynamic creators and dreamers.
At Kor, we believe in the power of change and where that growth originates from. It's the thing that makes you tick, or the passion projects that energize your wildest imaginations. Thinking sustainably is part of our nature, and daring to discover something more is what lives at our core. Naturally, our Cartonlab booth was a hit, and we're so proud to have been a part of important work that makes such a big impact! Following the trade show, we recycled our display with pride knowing that we left our mark on this year's Inspired Home Show without leaving a trace, setting the pace for fresh ideas that strive to think outside the (cardboard) box.