Kayla Bell
Making Waves in the Fashion Game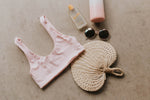 We've all dreamed of it. Taking something that we are super passionate about and just running with it. But how many of us can really say we've taken that leap of faith? At the age of sixteen, Kayla Bell did exactly that. Rather than sitting by daydreaming and hoping that maybe someday these amazing opportunities would just fall into place, she put in the time, effort, and hard work to make them happen. Not only that, but she did it her way. Now working in Los Angeles as a stylist, designer, and brand owner, Kayla clearly has no intentions of slowing down anytime soon. So how did she get there?
It all started in high school. She had always been very interested in fashion, but found that a lot of the industry wasn't catering to women of different shapes and sizes. "I've always loved bikinis but could never find any that would fit my unique frame and figured if I was having this problem, I'm sure other women were as well." She decided then that she wanted to create her own brand of swimwear for all body types.
From the start, Kayla knew that she wanted her brand to stand for something. This wasn't just a line of swimsuits. This was beyond the clothes. She wanted to make sure that her brand made women feel not only comfortable, but also powerful and beautiful. This meant representing women of all body types. All ages. All ethnicities. No exclusions. No exceptions.
Designing pieces that complimented all shapes, sizes, and skin tones was just the foundation, though. Growing up, she idolized Hollywood actresses like Pam Grier and Michelle Pfieffer, along with nineties icons like Aaliyah, Kidada Jones, and Yasmeen Ghauri. These women were all obviously gorgeous, but they were also very different. Not only in career, but appearance and background, too. She prominently features a diverse group of models at Arrow + Phoenix. Not just in skin color, but body type as well.

One of the most important things to Kayla to this day is for people to look at her brand and feel represented- beautiful, unfiltered, and raw. "My goal as a woman, designer, and stylist is honestly just to empower all to go after anything they want in life but to specifically empower women by helping them feel confident and seen through my brand." None of that retouching stretch marks, lightening skin, or blurring out freckles in post-production. She wants women to know that these are not things we should try and hide or be ashamed of. They are what make us beautiful.

Body positivity was just the beginning, though. She also wanted to do more for the world in general. "I knew I wanted to build something special that went beyond bikinis and that's where the idea for have a conscious brand came from. I really wanted to build something special with great products and a philanthropic edge but I also wanted to bring diversity to the swimwear world."
The fashion world is often associated with a toxic culture of overindulgence and waste, but Kayla decided she was going to have a different narrative with A + P. It was imperative to her that the materials in her products were responsibly made with eco-friendly materials (including recycled water bottles!). She also created a recycling program that offers customers discounts on their purchase when they send in their old swimsuits- even if they aren't A + P!
Like any business, Kayla's has had its share of ups and downs. She remembers the beginning as one of the biggest obstacles she's ever had to overcome. As you can imagine, creating an entire brand is a lot easier said than done. Starting one at the age of sixteen? Some might say impossible. "Manufacturers and vendors often turned me away or tried to take advantage of my inexperience." But she didn't stop. A self-described "boho babe from the Bayou," she was no stranger to perseverance in the face of adversity. Her family lived in New Orleans in 2005 and was one of the many whose lives were completely destroyed by Hurricane Katrina. She watched her parents pick up the pieces and rebuild through their hard work, and this was not lost on her. She knew if they could get through that, they could get through anything.
She knew from the get-go that this journey would be an uphill battle, and she knew it would be worth fighting for. It wasn't just about fashion or clothes to her. It has always been more than that. Even now years later, she still has her good days and bad ones. It has never even occurred to her to stop pushing forward, though. "Really and truly, what keeps me going is simply knowing that our brand is special and unique. Hearing so many kind messages from customers also keeps me going and even on my toughest of days, there's nothing else I'd rather be doing."


These days, Kayla is keeping herself busy with not only designing and running the brand, but also being a stylist in Hollywood. As for A + P, the brand has recently branched out to include their first activewear collection and preparing to launch its Resort 2020 swimwear collection. They are also going to be hosting their largest pop-up shop for the Super Bowl in Miami this coming February. In the next few years, Kayla says that she wants the brand to be in stores, not just in the US, but worldwide. And while they are almost there now, she also wants A + P to be 100% plastic-free as a company. There is not a doubt in my mind that she can and will make it all happen. With Kayla at the helm, the sky is truly the limit for A + P. 
You can keep up with the latest from Arrow + Phoenix on their Instagram accounts: @arrowandphoenixswim and @arrowandphoenixsweat as well as on their site: www.arrowandphoenix.com