Portchie
Art is a powerful tool that invites real change in our communities both big and small.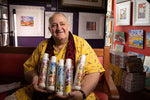 Jan Hendrik Viljoen, internationally known as Portchie, has become a household name in South Africa and beyond, building community and support with a passionate palette of watercolors that illustrate a distinctly pastoral way of life. Portchie's signature style is alive and thriving in Stellenbosch, notably with The Red Teapot Gallery and Maria's Manor, two pillars in the community that create space for other artists, thinkers, and changemakers. His work amasses over three decades and holds a special place in Stellenbosch, a town in Western Cape draped in vineyards, oak trees, and a gentle sea breeze, much of which serves as a prime source of inspiration to Portchie's lavish paintings and prints. Despite their compelling compositions, Portchie's work demonstrates simplicity in its most alluring capacity, choosing to capture the little moments of everyday life with beauty and depth. We were honored and fortunate to collaborate with Portchie on our One Canvas series, which offers a platform for creatives to share their vision of the world one sip at a time. The goal of our One Canvas model is to showcase both emerging and legacy artists who paint a brighter picture of evolution, using their art for mobility and sparking conversations around climate justice. More than anything, art seeks to inspire and is a powerful tool that invites real change in our communities both big and small. When we work with selected artists, we strive to see their vision come to life in exclusive, limited edition bottles that represent their unique style and commitment to making an impact.
Portchie's work is aglow with warmth, illuminating simple but wonderful aspects of the human experience and our relationship with nature. The One Canvas collection features several pieces from Portchie's "Memorable Days" pastiche, an assortment of paintings and illustrations that bookmark the stories of Stellenbosch and of South Africa. Though taken from the fabric of this region, Portchie's style represents the intimate relationships we share with each other and with the planet, speaking to audiences around the world. He maintains active involvement in his communities in and around Stellenbosch through charitable work and philanthropy, using the merchandise he sells in his gallery to fund work opportunities for others. It is through art that Portchie represents and uplifts his communities, and it's through art that we seek to activate real change ourselves.