Vertue Lab
Vertue Lab is equipping tomorrow's leaders in climate activism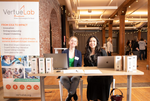 Earlier this year, VertueLab co-hosted their sixth annual Badass Women Entrepreneurs celebration alongside Portland, Oregon's Women In Science PDX, a nonprofit resource equipping tomorrow's leaders with the tools they need to activate change in their communities. Both organizations have developed a fierce reputation for innovation and unrivaled foundational support in the climatic sciences space, arming the next generation of pioneers with the financial, communal, and social support they need to invite climate action into the conversation. We were honored to contribute to this year's event, donating our latest collection, Kor ONE Planet, to attendees so that hydration was at the forefront of their experience.
Here at Kor, we believe in the power of community and shared evolution, and we recognize that water drives us to turn new ideas into actions. We have sustained a long-standing relationship with VertueLab and were thrilled to have a small part to play at their event, which took place on April 27 in Portland. As a member of 1% for the Planet, we are but one degree of separation from dynamic organizations like VertueLab, a partnership that we are proud to support both financially and objectively.
The expansive network of 1% for the Planet spools a supportive fabric that connects changemakers around the globe, and much like our ONE Planet collection, forces like VertueLab represent a larger framework built on a love for the climate, land, and water. We love to see changemakers drink from their core, quite literally, in pursuit of their greatest passions.
Each year, Badass Women Entrepreneurs highlights influential businesswomen in science and creates a unique opportunity for others to network, listen, and learn from each other to carry out future projects. Foundational anatomy in climate-driven entrepreneurship is critical for growth and development, and events of this kind offer an intimate stage for professionals and emerging trailblazers to connect and identify the resources that are available to them. VertueLab has been sculpting a similar position for fifteen years, starting out as Oregon BEST in 2007 and evolving to their current iteration in 2018 for visibility and accessibility beyond their home state roots. From the start, VertueLab has consistently broken barriers in leadership landscapes, becoming the first organization in the country to offer direct, program-related investments to cleantech startups under the Oregon BEST name. Today, VertueLab carries this energy into the next generation through carefully designed impact funds, community events, and guidance for businesses to navigate the complexities of government funding and development. VertueLab rides a wave of innovation through energized ambition, problem-solving through collaboration, and breaking down barriers through shared economic prosperity, all of which aligns with our mission at Kor to activate real change in our global communities.
This year's Badass Women Entrepreneurs event saw a string of panels and conversations that covered innovative business strategy, overcoming modern obstacles, and securing the funding and resources necessary to see ideas come to fruition. Providing accessibility to emerging entrepreneurs is crucial, especially in climate-driven initiatives. Women In Science PDX also offers programming to fulfill a balanced career path in sciences, and together with VertueLab's mission to support and strategize tomorrow's leaders in the climate fight, the Badass Women Entrepreneurs event was a force to be reckoned with.
Water is the core of the human experience, and no matter how varied those experiences may be, we are driven by the simplicity and consistency of hydration and how water fuels our deepest cravings for creative innovation. At Kor, we strive to invest in ideas that actively protect our planet, providing a moment of rest to passionate players on the field of climate activism when they need it most. We're excited to see where VertueLab makes an impact this year and every year following.