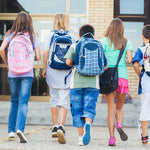 Parents rejoice! It's time to send your little off to school and whether your child is starting kindergarten or their senior year of high school, their hydration needs should be a big part of keeping them happy and healthy. Kids often have different hydration needs than their parents so we decided to talk about some of the differences and provide a few fun ways to help your kids stay hydrated!
Kids should be getting 6-8 glasses of water or other healthy drinking alternatives per day. Paying close attention to your child's hydration needs is very important because of a few reasons.
Children have higher water requirements than adults.

Kids often don't realize the early stages of thirst which makes them more

susceptible to dehydration

.

Childrens' bodies don't cool down at the same rate as adults which can throw their internal balance off - especially during the warm summer months.
Taking a few simple precautions can help keep your child hydrated. Dehydration, even mild dehydration, can cause headaches, lack of concentration, reduced mental performance, and overall fatigue.
Understandably, kids can be naturally picky and hard to please when it comes to drinking fluids. However, we live in a time where they are several healthy options to hydrate your kids. Below you'll find some great recipes for infused water as well as other options for your child.
Infused Water - Water doesn't have to be basic, by adding a few fruits and herbs, your child will be excited to drink water. Our favorite infused water is strawberry and lime but there are several different options for infused water. Wellness Mama, a kid-centric blog, has crafted a great list of infused water recipes that will please even the pickiest child. Find their guide here.
Electrolyte Infused Drinks  - If your child is playing sports this summer, you may want to stock up on electrolyte-rich drinks like Pedialyte. These drinks are formulated with "the optimal balance of sugar and electrolytes, needed to help replenish vital fluids, minerals and nutrients".
100% Juice Drinks - While juice should be given in moderation, if you have a juice-obsessed child, this may be a short term option. You may want to consider slowly watering down the juice so that your child starts to prefer water to juice.
Hydrating Foods - Kids can also stave off dehydration by eating a mix of the most hydrating foods. While there are several foods that will help you stay hydrated, some easy go tos are cucumber (96.7% water), celery (95.4% water), tomatoes (94.5% water) and aptly named, watermelon (91.5% water).
Even as summer comes to a close, kids are still in need of hydration. However, it's best not to turn to single-use water bottles for their water needs, it's much better for the environment if you and your family choose reusable water bottles! Good news! We're running a great Back to School sale now on the KOR Water website. Help yourself to some great deals on kid-pleasing water bottles.