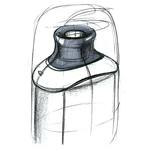 Ideas are a dime a dozen.  They are empty promises full of potential until they are put into action.  The story of KOR, which started with the KOR ONE hydration vessel, is no different.  It's a tale loaded with fear, mistakes, and uncertainty. But it's also the story of how passionately following your dream can conquer any obstacle.
_____________________________________________________
I have ideas about how to fix things all the time. Whether it's a new service, product, or plan to solve a social issue, I not only have an opinion, but often the perfect solution. Most times, however, my brilliant, Kramerica ideas evaporate as life (i.e. "be realistic") takes over and the courage, confidence and passion needed simply don't materialize. Oh well, I could've solved it. Sure.
Something about a water bottle changed how I now see life. It changed how I see myself. This is the story how together with an improbable team we created the KOR ONE, and with that our company, KOR Water.  For that, we need to go back to 2004.
"That bottle is a bacteria trap and you're going to get sick. You really need to get a reusable bottle that you can wash." 
So stated my wife, Stacey, commenting on the old Gatorade 32-ounce bottle I had been reusing for over six months. 
"You don't know what you're talking about. This bottle is fine. Look, it's still clear and works great!"
My 32 oz Gatorade bottle
That was my answer, until I felt the scum on the inside of the bottle. Then, I read online that it takes less than a week for e-coli to develop in an unwashed bottle. Yikes. My wife was right, yet again.
I went down to the local Sports Chalet store to buy a reusable bottle. They had bottles in all sorts of sizes and colors, but almost every one looked like it was meant for camping. These were my options, but there really was no option. My trusty Gatorade bottle had a better design and functionality than what I saw. I went home empty-handed.
Selection of Reusable Water Bottles circa 2005
So what did I really want? I wanted a sleek and functional bottle I could take to the office, gym and even at times, the trail. I wanted a bottle with cool features like a cap that stays on the bottle, or a rounded-lip spout that was as comfortable to drink from as a frosty glass beer pint. I started writing down ideas about my imaginary bottle, coming up with just short of 100 design requirement by the time I finished. I wanted something better, and it didn't exist. But what was I going to do about it?
The last thing I needed to do was create a reusable water bottle. I have a background in media and technology, having worked at HBO, EMI and once as an artist manager. I had started online internet companies. But never, ever had I actually created a physical product, something from concept to the customer's hands. At the time I was struggling with my existing business, Ivysport, and taking on a new project made absolutely no sense. I was already out on a financial ledge. I had a growing family with two little girls, ages 8 and 5. Nope, this brilliant idea about a new water bottle would have to melt with the rest of my ideas.
Who was I to attempt this anyway? I had absolutely zero experience. Design, prototyping, tooling, manufacturing? Nada. Coming from a family of engineers (while I was the economics major), even my dad and brother both laughed at me for considering making a product. "Stick with what you know", they said.
That's usually the end of the story, but something strange happened. Instead of walking away, I found myself feeding the idea a little each day. It was late 2004, and I'd carve out time to do research or doodle some sketches of the bottle. I began studying the bottled water market and how design in liquor bottles (particularly vodka) and cosmetics attracted people toward a brand. Days turned into months, and suddenly this new side project started taking shape. I had a strong design direction and I was certain the tides of sustainability would open a future where more people (not just the campers or college kids) would carry around a reusable bottle. My water bottle project progressed slowly, but I grew more enthralled each day with my new side gig. I was actually going to do this, and speculation turned to commitment, and with growing confidence I knew I would figure this out.
In late 2005, I found a co-conspirator in Paul Shustak, a friend of a friend who had held product management jobs at Microsoft and Sony. He knew absolutely nothing about making a physical product either, but his enthusiasm and interest coming on board excited me even more. We both rationalized that what we lacked in experience we could gain by "seeing things with new eyes." Next, we set out talking to industrial designers to help bring our bottle to life. At the time, RKS Design was on the cover of Business Week, and I noticed they were located just north of Los Angeles.
RKS Design on Cover Business Week - July 4, 2005
Paul and I pitched the idea of reinventing the reusable water bottle and RKS immediately got behind it. They loved the idea and were the perfect design partner to bring it to life. The band was starting to come together. We took our 100+ design requirements into our first RKS meeting (remember, both Paul and I were used to writing software specification docs) and learned a tough lesson about design trade-offs. Some are fairly obvious — you can't have a small bottle with big water volume (duh!). Others were painful decisions — an elliptical shaped bottle might look cool, but it's not going to fit most cup holders. 
The budgeted 6-month design project ballooned into a 24-month Vietnam "design war", with casualties on all sides. We arrived at the aesthetic of what we were to later call the ONE within only 60 days, but Paul and I wanted unheard of functionality as well.  Seeking to make the bottle perfect, we chased our tail in circles, spending over 15 months exploring different one-handed, hinged cap ideas. We ran out of money, argued at times with our design team, and even questioned if it was time to get "real jobs." Paul did in fact have to leave and take a job with Adobe (moving to San Jose) while I refocused my attention on my current (but as exciting) business, Ivysport. Our bottle dream was in limbo and close to extinction. I had chased this idea more than any other I'd had before it, yet here I was about to quit again. The past 2–3 years had taken its toll and everyone involved in the project was out of gas.
2007 Original prototype of the KOR ONE
Together with RKS, we managed to finalize our cap and hinge design and in late 2007, I received the final CAD files and a prototype. None of us were prepared for the moment when we saw and held the final prototype. Until that time all of us had only seen computer renders and 3D foam models. When I first laid eyes on the bottle and held it in my hands, a wave of emotions came rushing up inside. Three years of dripping blood and borrowing money to chase this idea suddenly crystallized in one moment. This was it! We had created something so elegant and amazing I knew then we had to finish it. There had been so much sacrifice — so much fear, so many mistakes — but somehow at the exact moment we were about to give up, we were able to ascend up to 1,000 feet and see clearly how far we had come. There was no stopping us now. 
(Left to Right): Me with Ravi Sawhney, CEO of RKS and Gaylon White, Director Design Programs at Eastman — at the 2008 IDSA National Convention in Scottsdale, AZ.
Another year transpired as we identified a manufacturer and worked through the arduous task of converting the CAD design to tooling where physical parts are made.  Needless to say, by this stage we had true religion and knew we were about to release something special. Throughout this period, we would also formerly incorporate the company, call it KOR, and name our bottle the ONE (all to be relived in the next several posts). Oh yeah, Paul would also quit Adobe and join me back at KOR :)
They say, "nothing ventured, nothing gained" and there's a lot of merit to that statement. There's no net to catch you when you jump off the cliff and try to fly. But if you don't push beyond your boundaries, how can you ever become more than who you are today? Answering the call to develop the KOR ONE has fundamentally changed me forever. So, what's been calling you?
_________________________________________________
What happened next?!  Read on
This article is one in a series to commemorate the 10 year anniversary of the KOR ONE.