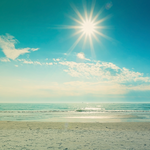 Summer is perhaps our favorite time of the year. The days are beautifully sunny (unless you are in San Francisco or anywhere in Arizona), the nights are perfectly warm for going out, and everything takes on a kind of youthful quality. It's an entire season of possibility and adventure. The only hard part is deciding how to spend it. Here are some of our suggestions. Surprise surprise - one might involve hydration!
Get Outside
Unless you live in a place where the cacti are melting, summer is a beautiful time of year to go out and enjoy nature. Whether it be sightseeing, hiking, or camping, getting out to nature is one of the most healthy, restorative, and fun things you can do in the summer. The United States has some of the most gorgeous national parks in the world, and summer is a perfect time to pack up the family to go visit some. Even if you aren't up to a day trip in the wilderness, taking the time to sit and enjoy your own neighborhood park with a good book can be just as enjoyable. Oh, and don't forget to stay hydrated, especially in the heat!
Cook up Something Healthy
Summer isn't just a great time for the outdoors - it's a great opportunity to cook something delicious. The backyard barbecue party is a classic summer tradition that brings together friends and family to enjoy drinks, food, and sun. Add some health to your backyard barbecue by taking advantage of the season's tastiest produce. Our friends over at EatingWell have a stellar list of delicious and refreshing recipes perfect for summertime lunches and dinners (we love the Strawberry Rosé Granita!).
Take a Road Trip
Perhaps one of the most classic summer activities is the all-American road trip. Sure, this takes a little bit more planning than a good hike or a backyard party, but can potentially be the adventure of a lifetime. You'll meet all kinds of interesting people, have a chance to taste delicious local foods, see amazing sights, and have a chance to experience new places in a way that is more rewarding than flying. Most importantly, you'll bring home stories that you'll remember for decades. If you don't have the time or budget for a multi-day adventure, sometimes a day or weekend trip can provide just as much excitement!
Take it Easy
Just because most of us don't get an official summer break anymore doesn't mean we shouldn't take some time to simply sit and enjoy the luxurious opportunity to do nothing. In fact, taking those chances to just exist, devoid of hectic urgency, is not only relieving - it can be good for you. While being completely sedentary is not ideal, sometimes taking a moment to enjoy the fact that you have a moment - be it on the porch or backyard - is a fine way to enjoy a summer day.