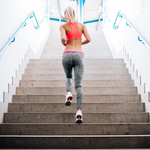 With so many fitness crazes out there, you might be asking yourself, "Which workout is best for me?" By changing your approach, following your interests, and setting realistic goals, you'll be on your way to finding the workout that fits you best.
It's All About the Approach
Figure out why you want to work out in the first place. When you solidify your own reasons for getting some exercise, you'll be more inclined to choose something that actually speaks to you personally, instead of following along with what everyone else might be into. Plus, knowing why you've decided to work out will keep you motivated to stick with a plan.
Do you want to live longer and see your children grow up? Perhaps you have a health concern that requires you get into shape. Or, you could just simply want to look better in a bathing suit. All valid reasons to work out – so, find your reason.
Follow Your Interests
Exercising won't do you any good if you absolutely dread it. If you hate running on the treadmill, stop running on the treadmill. This may take a bit of trial and error, but a good place to start is by following your interests to make sure working out is something you're happy to do.
Do you love to dance? Try a dance cardio class. While your favorite tunes are pumping, you won't even realize that you're getting a major workout. Dancers are some of the most fit people out there. So, if you love to boogie, take advantage of the calorie-burning benefits.
Maybe you're super competitive. In that case, CrossFit could work for you. It means you'll be working out in a group setting where you're challenged to beat your personal record. For many, it's a welcome dose of healthy competition. You'll get super fit in no-time working to meet your fitness goals with constantly changing exercises.
Sports-fanatic? Start up a soccer team with your coworkers or join a local football league. Playing sports is a great way to stay fit without feeling like you're slaving away at the gym. Plus, team sports offer a bit of social interaction and camaraderie that'll give your mental health a boost.
Don't have a lot of time? A HIIT class can be done in as little as thirty minutes and switches things up constantly so your workout flies by. HIIT is an acronym for High Intensity Interval Training meaning you have a variety of exercises to complete and you go from one to the next, blasting through everything in a short time frame.
Love being out and about with friends? Invite a group to a yoga or spin class instead of meeting for brunch. There are tons of group exercises that are perfect for friends to do together. So, if you're a social butterfly, work out with your pals. You can always hit up the juice bar afterward to catch up.
What are your goals?
No matter what your goals may be, there's a workout that's right for you.
Do you want to tone up? Something like Pilates, barre, or body weight exercises could help you tone those muscles without necessarily adding muscle mass. When done the right way, you'll be working on elongating those muscles versus packing on mass.
But maybe you are looking to build muscle? This is where heavier weights come into play. Weight training with core exercises like bench presses, squats, deadlifts, and bicep curls are a tried and true way to build muscle mass. All those functional workouts you see in a CrossFit gym, for example.
Do you need to lose weight? HIIT workouts are great for dropping pounds since it combines cardio with strengthening exercises. You build endurance alongside working the major muscle groups. Cardio classes like Zumba are great for weight loss as well, but you'll always want to do some kind of strengthening to keep toned. 
Looking to blow off some steam and manage stress? Yoga is great for blending mindfulness with a powerful workout. Deep soothing breaths blend into strong poses that improve flexibility, strength, and overall well-being. Setting aside time to stretch and rest (whether or not you do yoga) is essential to a healthy lifestyle.
Be Realistic
As with any goal-setting, you'll want to be realistic. It's probably a bad idea to decide that you'll start doing CrossFit five days a week before you've even tried it. Give yourself a challenge, but take it slow.
It goes back to why you're working out. It's easy to make a plan when we're feeling super motivated, but there are bound to be days where the couch just seems so enticing. It's important on those not-so-motivated days to have firm reasons why it's more important for you to exercise than to indulge in a Netflix binge.
Set realistic goals that you know you can meet and reward yourself when the goals are accomplished. Avoid any regimens that add stress to your life time-wise, money-wise, or otherwise.
If you're busy, maybe opt for a workout you can do at home in only 30 minutes. If you're on a tight budget, aim to jog around your neighborhood three times per week (it's free!). If you need some accountability, invite a fit friend to take on the challenge with you. 
Being honest with yourself and what works with your lifestyle will prove to be an important step in choosing which workout is best for you.
What is your favorite way to work out? How did you choose? Let us know in the comments!